HOW TO ORDER
Ordering is easy. Simply email Ally with the following information:
1. The name of the painting(s) you would like to order.
2. What type of painting you would like to order – print, wrapped canvas, cards or an original.
3. Your location in order for us to provide you with an accurate shipping cost.
Please allow 24 hours for a response. You will receive an email from us with the total cost of your order and a link will be included for you to confirm and pay for your order through Paypal. Your order will be shipped within 24 hours of payment. An invoice will be provided for your records.
We look forward to hearing from you and additional questions are always welcomed.
---
SPECIAL OFFER
Order your copy of "The Elephant in the Room" for a great price!
The metaphor of not wanting to address an obvious problem or truth is visually displayed in this Ally original painting. You can purchase a 16″x20″ print on premium paper with a matte finish that is ready to be framed and hung in your home or office. Available for only $47.88 & shipping. Original has been sold and only a limited number of prints are available.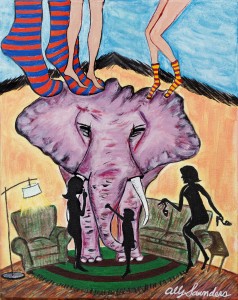 ---
CARDS
A select few of Ally's paintings are available in a 5″x7″ card that is perfect for gift giving. The cards are blank inside, include a blank white envelope, and is protected by cellophane. They are professionally printed on card stock.  Available for only $8.00 plus shipping.
---
PRICING ON ALL PRINTS
Prints are available on all paintings and your favorite can be purchased on premium luster photo paper or a wrapped canvas. Originals are also available.
16″x20″ – $57.88 plus shipping
Premium Luster Photo Paper delivers maximum ink coverage and the highest color gamut available to reduce banding and produce highly saturated photographic reproductions. It is the best choice for showcases the vibrant colors and details of Ally's paintings. It is a thick and heavy paper that cannot be easily torn. The print is not glossy and is ideal for framing.
16″x20″ Wrapped Canvas Print – $208.00 plus shipping
Prints are available on 1.5″ wrapped canvas. The painting is printed on a canvas that is stretched around a 1.5″ wooden frame and is ready to hang. A wrapped canvas creates a 3 dimensional effect that is high impact and does not need to be framed.
Original Painting – Various Prices
Original Paintings are available for purchase. Please email for pricing and availability. All my paintings are created on canvas with acrylic paint.
Arbutus – SOLD
The Elephant in the Room – SOLD
---